Tips for beginner hikers - what to wear, how to prepare and what to carry with you on the hill.
If you're reading this, I'm making a major assumption here that you are an absolute beginner, so please forgive me if you're not!
As Mountain Rescue volunteers, we probably have more in our packs than most hill-walkers and what we have will change somewhat with the seasons.
But rain, snow or shine there are certain essentials we will always have in our hiking packs.
Mountain Leaders will carry additional items in order to look after their group irrespective of the weather. Don't be afraid to ask the leader or guide of your group if they have the following items in their pack:
Group Shelter – this is like a tent fly sheet and comes in a variety of sizes from 2 person up to 10 person. In bad weather, it's a cosy place to have lunch. In the event of an accident, it's a vital and potentially life-saving piece of kit.
Basic First Aid Kit.
Navigation tools – maps, compass etc.
Fully charged mobile phone with location services turned on. (A powerbank in a drybag would be nice too, particularly if also using the phone for photos or Outdoor Active too).
For yourself, if going out without a leader/guide, you should also have the above items within your group - and know how to use them!
You don't need to do a full mountain skills course to learn how to navigate well enough to keep yourself safe. We also offer Navigation Courses for those who prefer to learn at their own pace (faster or slower), on their own or with friends and without having to stick to a syllabus. Email [email protected] for details.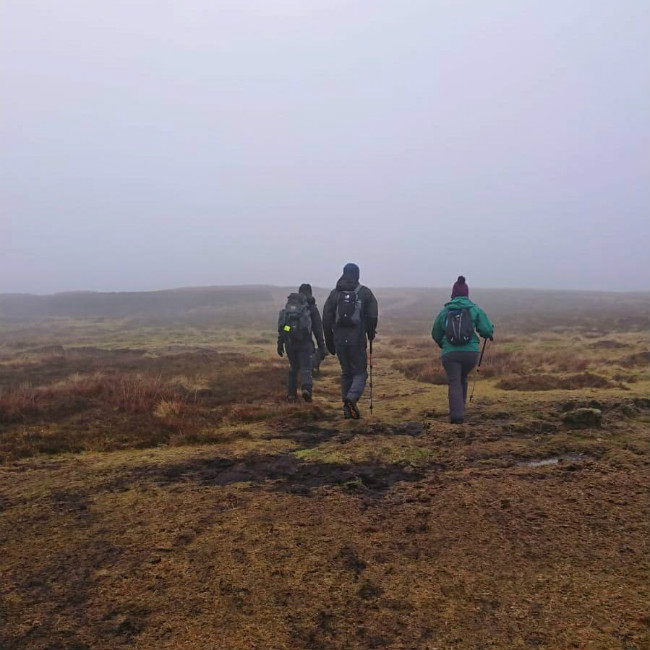 Check the Weather Forecast.
You'd be amazed at how many people just look out the window and dress for that. Both Met Éireann and the UK Met Office have good apps, though I personally prefer the predictive nature of the UK's rainfall radar. For a forecast specific to the mountains, www.mountain-forecast.com is pretty good, the forecasts are based on the elevation at the summits. I particularly like knowing the windchill factor in advance.
Prepare for the worst and be pleasantly surprised.
Dress appropriate to the weather in the mountains, bearing in mind that it will get colder (and windier) as you go up.
Use sunscreen regardless. Your face will thank you for it in the longer term.
Layering is the key to comfort. You can add or remove layers as your own personal thermometer dictates. This might sound obvious, but it's something I've noticed with groups - just because someone else has removed or added a layer doesn't mean you must. As well as the fact that you are unlikely to be wearing exactly the same fabrics, you are individuals with different internal thermometers. Even the same person in the same weather conditions can feel different day to day. It's what makes layering systems wonderful. You can adapt much easier.
Essentially, a layering system for hill-walking will consist of a baselayer tee worn next to your skin, a mid-layer fleece, hiking pants and an outer shell - your rain jacket and bottoms.
Hiking boots are an essential piece of kit in our mountains. In addition to supporting the ankle from rolling on uneven terrain, they also keep our feet dry and warm. Mountaineering approach shoes are fine on forest roads and tracks, but I wouldn't wear them on the open hill unless you're happy to get them soaking wet. You should not wear road runners or standard street sports footwear in the mountains. It's asking for trouble. Mountain specific footwear have huge research and development gone in to make super sticky and supportive soles.
Gaiters are an optional accessory which really come into their own on misty, wet days, on waterlogged, boggy ground, on snow and even during river crossings. They keep your lower legs clean and dry. They give your boots an extra chance to stay dry too - so long as you hook into the laces nearest the toes. They keep heather and other debris from getting into your boots and annoying you. They even help keep the dreaded ticks from getting in. A worthy investment or a nice birthday present at some point.
Walking poles are another optional accessory. If you've got dodgy knees or are carrying a heavy pack, they can be a life-saver! Plus you get a bonus arm workout! If you're not sure you'll like them, beg, steal, borrow – or rent them to try them out before you buy. As with all outdoor kit – you can spend as little or as much as you want on these, there are so many types, they'd need an article all of their own!
So, to recap:
Dress for your walk wearing your baselayer tee, midlayer fleece, hiking pants and boots. Depending on the weather when you start, you might wear your rain jacket and bottoms, or you might stash them in your pack.
Which brings us nicely to what else you might pack in your bag.
Most backpacks are water-resistant, but not waterproof. Some people love rain-covers for their bags. I'm not one of them – I much prefer to use a couple of drybags internally to both organise my kit and keep it dry in poor weather. A zip-lock bag can do much the same job, but in the shift away from single use plastic, it's not the most environmentally friendly approach.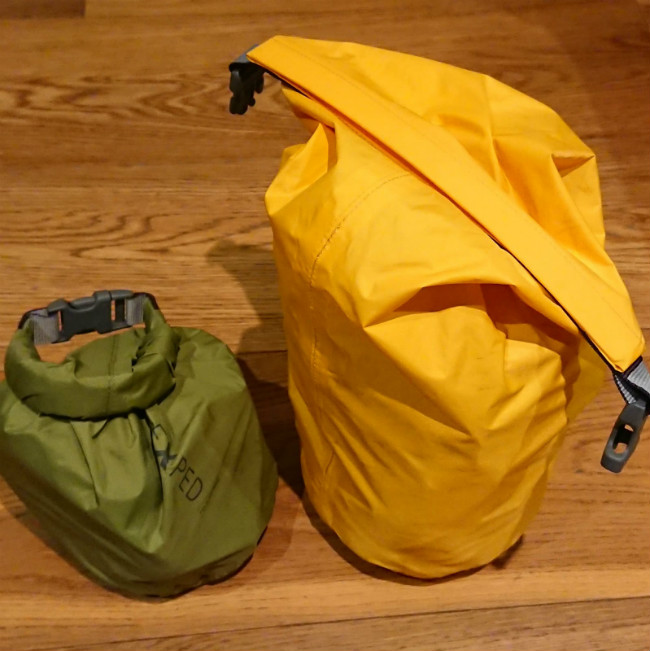 If I know in advance that the weather is going to be awful, I may also line my bag with a survival bag, giving it multiple functions. Very few people can afford to go out and buy all this kit in one go, so starting with a survival bag inside your pack as you're building up your stash of drybags is a great idea!
Once the bag is lined, keep a drybag or zip-lock handy for your phone and car keys.
Into your bag goes:
An extra fleece/midlayer
Hat
Buff/neck gaiter
Gloves
Food (plus a bit of extra food – just in case)
Water (Flask with hot drink optional)
Working headtorch with fresh batteries (or spares)
Your rain jacket and bottoms (if you aren't wearing them)
Bivvy bag
If you hope to be self-sufficient in the mountains, these items should be there regardless of how sunny it might be. Even with the sun shining down, a person sitting on the ground with a twisted ankle can get cold extremely quickly. Your spare fleece or hat could make all the difference to you or someone else in your group. In the summer, you should wear a cap or sun-hat to protect you from the sun, but do still keep your warm one in your bag anyway.
Talk to the people you are going hiking with. I rarely bother with my flask, unless it's bitterly cold, I prefer drinking water on the go. But plenty of my walking buddies love a cuppa on the hillside. No-one ever seems to finish their flask by themselves though, so have a chat, bring some extra chocolate for your friend and a cup in case so they can share their tea with you.
Be responsible. The farming community often offer access through their land to the mountains beyond. This access is at their discretion and for the benefit of us all. Be mindful of that, respect their wishes regarding dogs and close all gates behind you.
Don't forget to practise the principles of Leave No Trace in our hills. You should leave nothing behind. No tissues, no fruit skins or cores, nothing. Even compostable items take time to break down and look ugly and can cause problems for the local fauna. If you carried it in, you can carry it out. If you see some litter, bring that out too. Together we can make a difference.
So, your bag is packed, you're dressed and ready to go. Anything else?
One final tip – keeping a change of clothes and a small towel in the boot of your car is a real treat if you do get caught out by the weather. A whole change, socks, jocks/pants, footwear – the whole kit and kaboodle!
You will feel like the cat that got the cream as you dry off and change, warm again and ready for that cuppa by the fireplace in whatever establishment takes your fancy.
Enjoy!