As one of the lads put it - "you don't have bits of gear all over the house, you've got bits of house through your gear!" It's time to sort this out. We need a gear room, but we'll have to settle for an ultra organised gear wall. We asked our Facebook friends and followers for ideas. Here's what we came up with.
We have a lot of kit…
We have been collecting kit for well over 20 years, so that's not too surprising. Some for work, some for general hiking, some for climbing, some is Mountain Rescue specific, some for via ferrata, more for camping (all types), biking, winter kit, watersports, kids' stuff, you name it… And lots and lots of books. It just accumulates over time. But you know what? We can never find anything when we need it.
We badly needed to get our kit organised. And lockdown seemed like a good time to start on that. We've got a few storage bins, but they were quickly filled – and some weren't transparent so they weren't ideal for the job either.
I would love a gear room, but unfortunately we haven't the space to dedicate an entire room in our house to just one purpose – I'm guessing most people are the same. On the other hand though, I'd much rather have my gear in the house with me for easy access.
It's a pain in the arse neck going to the shed for stuff. It'll be guaranteed to be raining. And rummaging around in an over-stuffed shed by torchlight because you've once again left getting your kit ready to the last minute is never fun! And let's be honest here – it likely won't even be there because you didn't bother putting it back last time…
For every challenge, there's the internet...
So, muggins here began scouring the internet to see what other people did with their spaces. I'm beginning to start a romance with peg boards… And rails with hooks… And racking… And storage systems of all kinds…
Could a gear wall be the perfect compromise? Maybe if we got rid of some furniture and got the layout just right, the spare bedroom could double up as a gear room, or triple up as a gear room, office and spare room. It makes no sense for a double bed used a handful of times a year to be holding us to ransom on space… although it is probably a step too far to put our guests in the shed!
We did a shout out on Facebook kicking off with a photo of Erin's Gear Wall above to get people salivating…. It certainly worked for me, and it looked like it did for you too. Almost 30K had a peep with a whopping engagement level across a variety of pages.
With that level of interest, it was worth collating the best of them to show you in one spot. Thank you to all who made the effort to take a photo of their kit rooms. No offence if we didn't include yours!
Here are some of our favourites in random order of amazingness!
Matt Dobbie Hodd says his stuff is all over the house, but if it's as neat as the inside of this cupboard, then I'd be happy enough with that.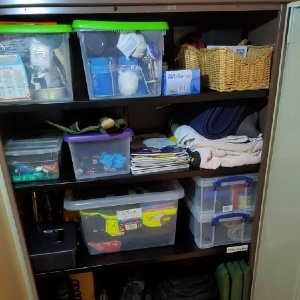 Don't believe Ronan Friel when he claims this is tidier than usual – he's always organised – What a room! And there's even space for more gear....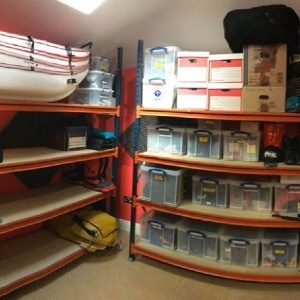 James Ranken's kit is pretty neat – is that because the skiing, sky-diving, spear-fishing, cycling and canoeing stuff is messing up the rest of his gaff?? Peg board… drool.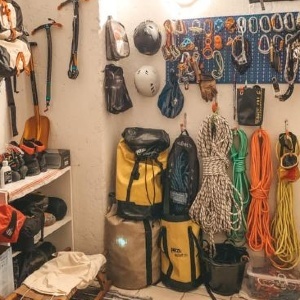 Loving Danielle Griffith's taste here – those ropes and lids? Pure drool! Those raw wood bookshelves, complete with bark edging… Danielle! I'm moving in! (Flip your phone sideways to see them better)
David Woolsey also dots his stuff in nooks and crannies around the house, but mostly in here…  I love that you can access into a tiled area directly from the garden! A space to kick off the wet and muddy stuff before traipsing through the rest of the house. I need me some of that!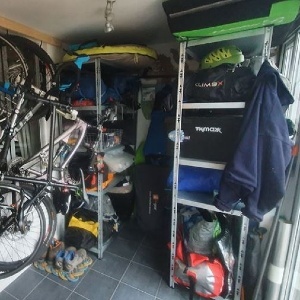 Right Nigel Berry, the feather duster is for dusting….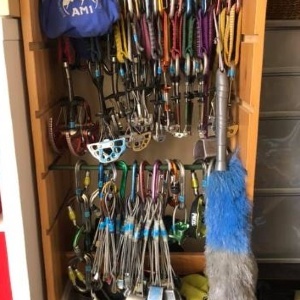 I love the uniformity of Conor Moriarty's Gear Wall, the same racking all across the wall with the wooden crates and storage bins underneath make things look neat and organised even when they aren't.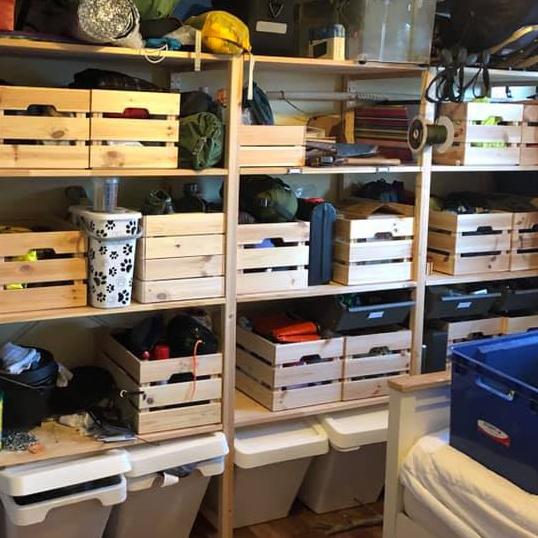 Wait till you see Iain Dredge's Gear Room for organised!!! I actually don't need to say anything else…
And, finally, if you're thinking – yeah, yeah, but I don't have that kind of space. Look at what Lisa Pasquale did using a corner of dead space in her hallway!! Hats off to you Lisa.
Okay folks – you've got the inspiration – once the hardware stores are open again, get to work!
Grand Designs here we come!
We'll be doing a follow up in due course to see what you've done – Don't forget to save your before and after pics – we'll show you ours if you show us yours!