Preparing for group walks during the Covid-19 Pandemic. Extra considerations you need to think about as we begin to return to the hills.
I don't know about you, but I can't wait to get out on the hill for a good, long day! You may have read my previous article here about preparing for a hike in normal times. Most people don't have mountain trails within their 5km radius, but with an expansion to 20km on the horizon, a few more will soon enough.
Then a lifting of travel restriction at the end of July (we all hope!) means that many people will be running for the hills at that stage!
Mountaineering Ireland have released their guidelines on the return to hill-walking which I would urge you to read if you haven't already done so.
The most important thing to remember though is:
Until Phase 4 (20th July), no more than 4 people can go hiking together. All must maintain social distancing and good hand hygiene and all must also be within their permitted travel zone: 5km until 8th June, 20km until 20th July.
Even after phase 4, we'll need to practise social distancing of some kind and hand hygiene, but it's nice to see the light at the end of the tunnel and start planning again isn't it?
Three of us here at Adventure.ie are Mountain Rescue volunteers with The Glen of Imaal Mountain Rescue Team. We've well over 50 years of combined MR experience alone (much of this in leadership roles) and many more in the mountains in general, so we would like to add a little advice to that given by Mountaineering Ireland.
So, let's get planning!
Groups of friends hiking together and Clubs in particular will need to keep additional considerations in mind to maintain social distancing and safety in poor visibility or weather conditions.
This may mean having extra navigators in your group in addition to smaller group sizes. It may also mean that you may have to be more self-reliant in a rescue situation as Mountain Rescue teams are redefining their own operating procedures in this ever-evolving climate.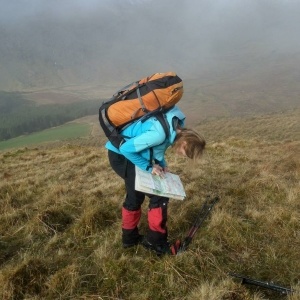 Consider extra navigators/leaders
Know who you are hiking with:
Don't be afraid to ask your hiking buddies if they may have been exposed to the virus – and similarly don't be offended if someone else asks you the same question. Everyone has different comfort levels around this.
Someone who has a vulnerable person in their home and has been out and about very little is likely be more anxious than someone who was working in an essential job and is very familiar with the Covid-19 world.
For clubs this might mean getting participants to sign up for walks in advance with a self-declaration of being healthy, or dividing into smaller units who will hike together until this all ends.
Agree to remind each other to keep your social distance, not hold one anothers' belongings, use your own phone for photos and share them later. It goes against the grain, I know. Hill-walkers are the friendliest people on the planet.
Ensure you have a first aider in your group if at all possible and more than one person capable of leading.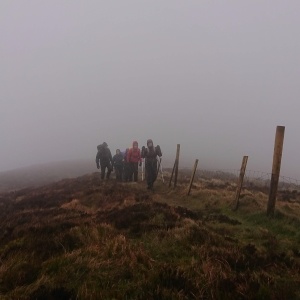 Know your group
Car-pooling:
Unless you are from the same household, do as you would on public transport – use hand sanitiser and wear a face covering. Don't put the driver under additional pressure or stress to have to ask you to do this. See HSE guidelines on how to use face coverings appropriately.
Be extra considerate of local communities:
Rural communities have been relatively sheltered from the effects of Covid-19 and generally want to stay that way. Remember that our access to the mountains is often at landowner discretion. Park thoughtfully and be respectful of people's wishes.
The farmer who always let you park in his laneway, might not feel too obliging yet. Ensure emergency access is kept clear. Shops, cafés and later, pubs will be just starting to reopen as many are waiting for Phase 4 to do this for viability reasons.
Be patient as they begin to navigate their way through this. Businesses in rural areas will be struggling to balance survival while being conscious of not upsetting their own community. Your support will be greatly appreciated by them, particularly if you respect social distancing and hygiene protocols.
Route Choice:
Plan your route with all the above in mind. Have your plan B (and C!) ready if parking is tight when you get there. As mentioned previously, you may need smaller group sizes, extra leaders or a combination of both in order to maintain social distance and general mountain safety on the hill. Choose routes that are well within everyone's capability, bearing in mind that your group's hill fitness won't be what it was pre-covid.
Weather forecasts should be studied with greater vigilance, erring on the side of being over-cautious. Stick to lower level walks in poor weather. Have plenty of 'escape' possibilities. Consider starting earlier to avoid meeting lots of people parking and also to avoid coming off the hill late.
Only hang around for lunch if the weather is glorious. Otherwise opt for little and often top ups, eating on the hoof and make sure your group know this so they're not planning on full on picnics. It can be hard to remember to stay apart when having picnics.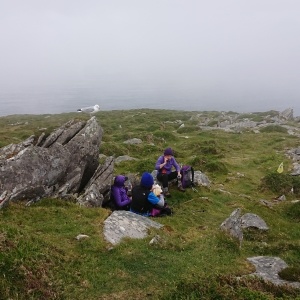 Maintain your distance at lunch
Accidents are more likely to happen on descent and more likely to happen late in the day when people are weary. Even in the summer months, descending later in the day means you have less time in the bank if things don't go to plan.
If you have never hiked before, stick to way-marked, low level trails, hire a Mountain Leader to guide you, or join a Mountaineering Ireland affiliated walking club.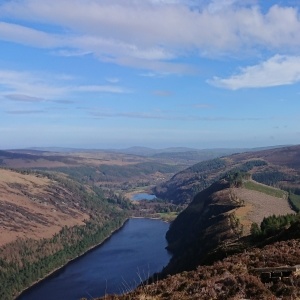 The Spink, Glendalough
What to have in your daypack:
This will depend on whether you are leading a group, going out with peers or just along for the hike. If you aren't too sure or feel out of practise, read our post on preparing for a hike, I won't list them all again here, but will mention a few additions or changes you might consider to your standard practise.
Your First Aid Kit: Ensure you have topped up the basics of hand sanitiser, alcohol wipes and gloves. Add a couple of disposable masks in there too, along with a couple of ziplock bags to store and dispose of these safely.
Bring sunglasses, even on a dull day. They can double as eye protection if needed (if you are in close proximity to a suspected covid patient, or if you are in the vicinity of a helicopter lift).
Your trusty Group Shelter. In bad weather during ordinary times, it's a cosy place to have lunch. In the event of an accident, it's a vital and potentially life-saving piece of kit. Every Mountain Leader will have one, every group should have one. During Covid-19, reserve your group shelter usage for emergencies only. I'll come back to this later.
Make sure you have adequate phone cover and battery power. Bring a powerbank and cable if necessary. Mountain Rescue Teams will be using phone advice more during the pandemic, so you will need at least one fully charged phone to hand if things go pear shaped.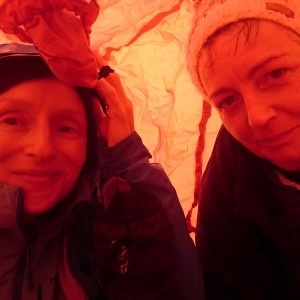 Pre-Covid Lunch in a Group Shelter
What will happen if things go wrong:
Sometimes, even with all the pre-planning in the world, an accident happens or a medical condition can flare up. Pause to think - Don't panic! If you need mountain rescue, that's going to take a long time anyway, so taking a couple of deep breaths will not change the outcome of the situation.
Will the situation actually require hands on first aid by you? Or is the person able to manage? Often, once the initial shock wears off, the person is actually okay. Before breaking your social distance, talk to them. A little reassurance goes a long way.       
If they do need your hands-on help, assuming the person doesn't live with you, put on your gloves, face-mask and sunglasses before approaching. If the airway hasn't been compromised, offer the second face-mask in your first aid kit to the casualty. If they can participate in their own care, allow them to.
Ask yourself some questions.
Will you be able to walk off the hill yourselves? Or will you need additional support?
If you need Mountain Rescue assistance, you should use your group shelter to keep the casualty warm while you are waiting. Believe it or not, we have more cases involving hypothermia during the summer months. When in the group shelter, both you and the casualty should keep your face-masks on. If there is a member of their household in your group, you could opt to assess your casualty in the open air and invite their household member to join them in the shelter to keep spirits and heat levels up. While the casualty is warm, get additional layers on to insulate them. The layers will keep the heat in. It's too late adding layers when the person is cold.
Bear in mind that your MR medic may decide not to use the group shelter during patient assessment for their own personal safety, so the onus is on you to keep your casualty warm. Before you even go onto the hill with your group - ask yourself if you are comfortable getting into a group shelter with someone.
What will you do with the rest of your group? If you have a second navigator/leader, you may decide to send them on down. Before you do this, ensure that you have everything you need to support your casualty until help arrives.
If you require support or are in any doubt whatsoever, call 999/112 and ask for Mountain Rescue.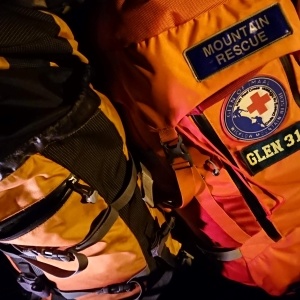 At the moment, with the additional protocols in place to protect team members, this process will take a little longer, so as soon as you have taken stock of the situation, ring for Mountain Rescue assistance. You should be asked the following questions, so it's worth having these answers in mind:
Your name and casualty's name.
Your phone number and another number of a charged phone in case yours dies.
What happened, how it happened and casualty's current status. You may be asked about their covid status also.
Weather on scene.
Number of people in your group & the group dynamic (ie – age/fitness profile, experience level, kit they have etc.)
Where you are, route taken. This data will be backed up with a text to a smartphone in your group. Please ensure that location services are turned on and click the link on the text when it arrives. Signal permitting, we can verify where you are much of the time.
This information will enable the MR Team to make an informed plan. As is normal, depending on your situation, it might be that you are given the advice and reassurance to handle the situation yourself, with the team on standby and regular phone calls - just in case. Or it might be that a full call-out will commence.
Bring a change of clothes:
Many hill-walkers will do this already, but if you've been in close proximity with someone, a full change of clothes will bring peace of mind to you before you get back into your car. Remove and dispose of your PPE safely and responsibly. Place your sunglasses and clothing into a refuse bag to be washed when you return home. Change into fresh clothing. Between each step, sanitise your hands. Remember to clean your phone also.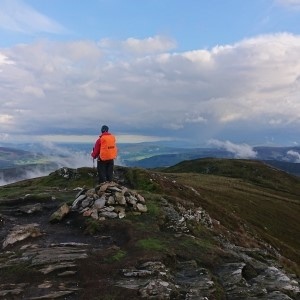 Looking into the Glenmacnass Valley
Try not to get too worked up. Things rarely do go wrong, particularly if you are well prepared and experienced. So don't forget the reason you are going into the hills in the first place and enjoy yourself!