Is the fill power of a down jacket as important as everyone makes it out to be? Honestly? No. It's not. It's just one of a few factors which you need to consider when investing in a down jacket. Amongst the other numbers you need to check, the weight of the down used is every bit as important as the fill power. Often, a lower fill power jacket turns out to be warmer than a higher one.
I think it's safe to say that we all know that down is basically the feathers of ducks and geese – the ones closest to the birds' bodies, those lovely, fine, fly-away, soft, fluffy ones you sometimes see escaping from down products. And I'm hopeful that all our wonderful readers would opt only for down with the R.D.S. (Responsible Down Standard) label.
If you've done a little research, you may also know that, despite a stupendous amount of research and development, per gram, down still outperforms synthetic insulation – meaning that you need a heavier, bulkier synthetic jacket to have the same warmth as a down jacket. Synthetic jackets do have other advantages though and if you want to know more about those, you can check out our article 'Down, Wool or Synthetic?'
But what exactly is Fill Power? And what does that mean for the warmth of your jacket or sleeping bag?
Down Fill Power measures the quality of down in a product in terms of its' loft – or ability to trap air. Essentially the Fill Power is the volume that down takes up per gram. The higher this volume (or Fill Power), the loftier, lighter and fluffier the downy feathers are and the lighter and more compressible the down product is. So, yes, the higher the number, the better the quality of the down. Conversely, the lower the Fill Power, the heavier and less compressible your jacket or sleeping bag will be to achieve the same insulation value. Fill Power is an easy number to find on the jacket or bag of choice because manufacturers tend to shout about it.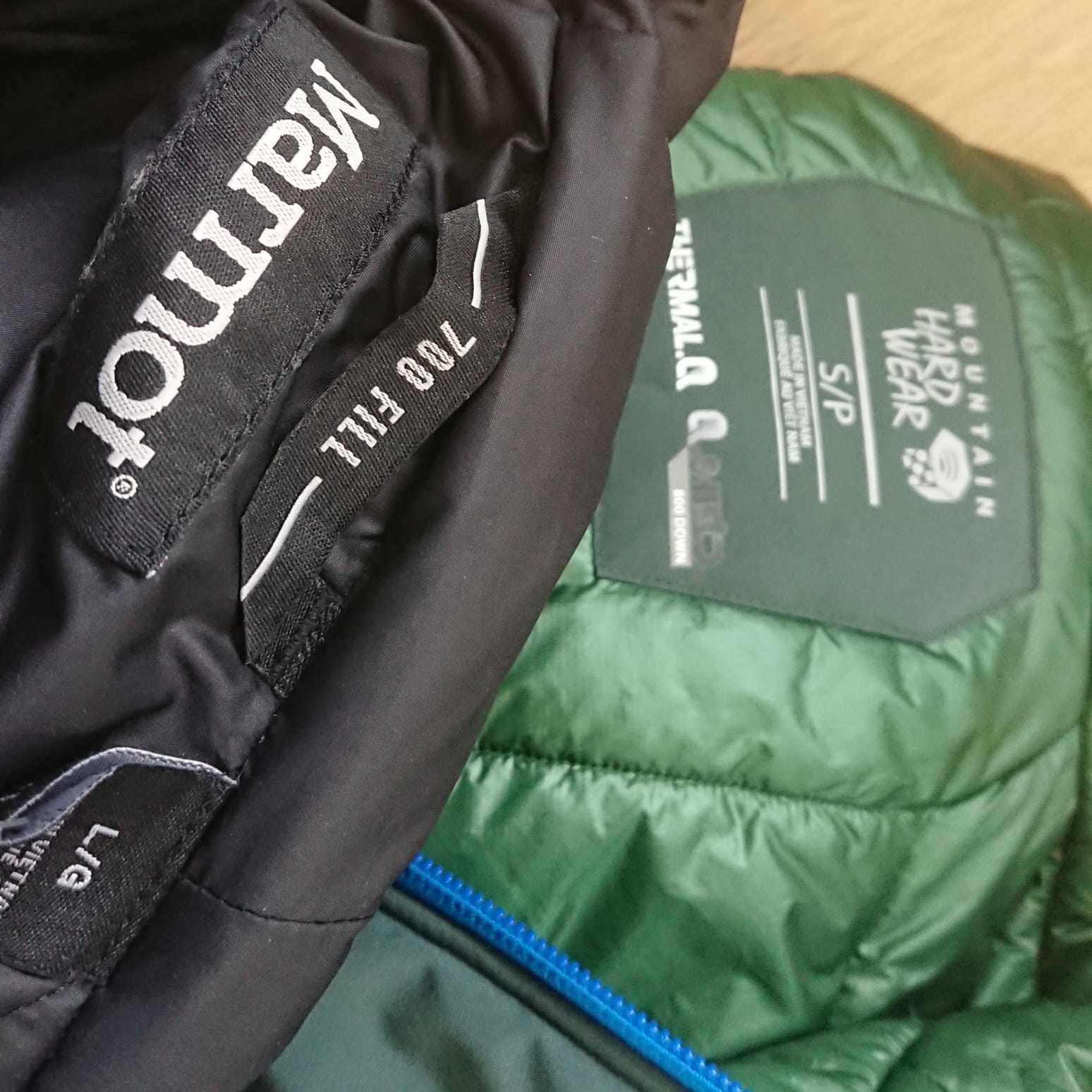 But Fill Power isn't the only consideration. Check the down to feather ratio too. The higher the percentage of down in relation to feathers, the warmer the jacket will be. This is another easy number to find – just look at the care label - or at least, it is there when the ratio of down to feathers is 80:20 or more in favour of down.
If it's not on the label, you can safely bet that it's lower than that. And as you'd expect, the more down, the better... So if you've two jackets side by side and both have the same Fill Power, you can check the down to feather ratio to help ascertain which is warmer.
The Marmot Guides Hoody has an 85:15 ratio, whilst you'll find 90:10 ratio on Mountain Hardwear's DS Stretchdown Hooded Jacket or our ex-rental Mountain Hardwear Supercharger. (Psst: We have a few left -  get added to our newsletter for info on upcoming ex-rental sales and other cool stuff!)
The most difficult number to find is the weight of the down used. But this is a really important number to know as it will help you compare products. Without knowing this, you're dancing in the dark really.
Some manufacturers, such as Rab, share this information as part of the standard spec. of their jackets and bags. But other manufacturers make you ask! They'll give you the weight of the fabric, the overall weight, the length… All of which vary with size and model too, so I don't know why it seems to be such an issue to cough up this information!
For instance, an 800 or higher Fill Power jacket means that a lower weight, less puffy looking jacket will have the same or better warmth than lower Fill Power Jackets. Mountain Hardwear's DS StretchDown hooded jacket has approximately 150g of down for a men's medium– the exact weight depends on the size and whether you're looking at a male/female jacket.
The 700FP Marmot Guides Hoody is stuffed to the brim with down, making it a super warm jacket which we have tested ourselves in extreme conditions in the Arctic and which we rent to those heading away on expeditions. Marmot have got the weight just right as this jacket isn't too bulky and will stuff into its' own inner chest pocket for packing in your rucksack. This will actually be warmer than 800FP jacket mentioned above because it has upwards of 200g of down.
Rab's 650FP Asylum Jacket is another example of a lower Fill Power which is jam packed with 365g of duck down. This makes it incredibly warm, though somewhat heavy and less packable – but it all depends on what you want it for.
So the real question is– what do you want it for?
Remember too that your jacket is not going to make you warm if you are cold already. It will just help prevent further heat loss. You need to be warm putting it on if you want to stay that way. How much warmth your jacket will keep in also depends on how you are using it – think hood, cuffs, hem. Are you using them correctly or is air and moisture getting in and stealing your heat?