Whenever you look at the aftermath of festivals, the sea of abandoned tents, belongings and litter is utterly disgusting and repulsive. Will this year be any different? What can you do without too much effort to make a positive impact?
Along with the summertime buzz comes festival season! Even if our June weather has so far felt more like November….
The grumbles that could be felt as an undercurrent a few years ago have been building year on year to a now near deafening roar.
Everybody who's anybody has been jumping off the single-use-plastic ship before it well and truly sinks. And rightly so.
What does this mean for festival season? How far could you go towards making your festival experience zero waste – or as close to it as possible – without compromising or inconveniencing yourself too much?
You're there for the vibes and the music for a couple of days. During that time, you'll need to eat, drink, sleep and wash – not necessarily in that order!
But let's tackle those one by one and see if we can come up with ways to minimise our impact on the environment and help deter the beast that is climate change.
Eat
Plenty of mobile food joints have embraced the keep cup and/or compostable movement which is fantastic and certainly a step in the right direction. It can be expensive for small traders to make that change, so if they are making the effort, you should make the effort too and reward them by supporting their business.
Before you're absolutely Hank Marvin, take the time to check out the food stands and their eco credentials. So, have a stroll around before your standards drop (after a rake of beers) and choose your eatery wisely!
Do they use compostable items? Do they recycle used cardboard plates? Drinks cans? Do they provide bins to appropriately separate the waste?
You could of course bring your home-made sambos in beeswax wraps…. Or bring your own stove and Firepot it! But let's not get carried away with ourselves!
Drink
What about the bars though? With all the pints being taken – how about ditching the plastic beer cup and having a keep cup for beers? Would you consider using your drinks bottle? Imagine your running vest complete with a pint in each pocket??
I'm sure the experienced barperson could add the few extra dribbles over the 500ml line required to make it a pint… Added bonus of being able to close the lid while hustling through the crowds. Win win!
You should probably bring it in empty though to avoid any potential issues at security checkpoints!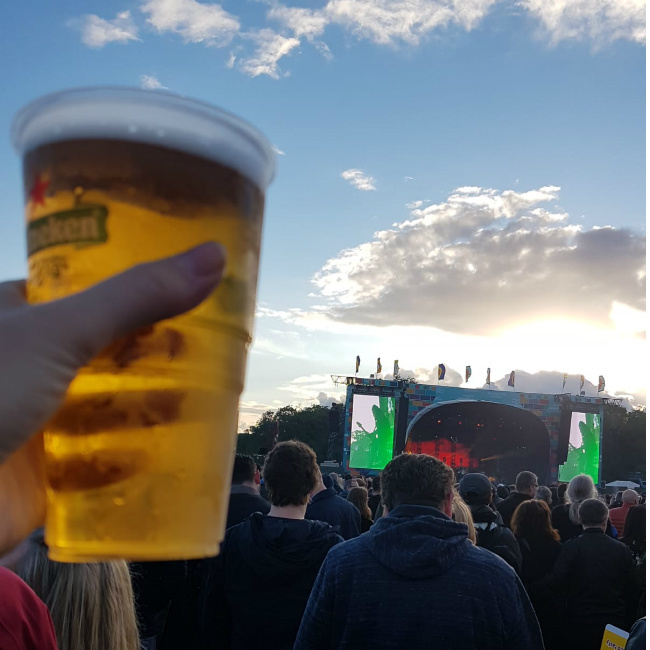 Let's get rid of single use plastic beer cups like this one!
Sleep
Whenever you look at the aftermath of festivals, the sea of abandoned tents, belongings and litter is utterly disgusting and repulsive.
If you are not appalled by those images, you need to take a long hard look at yourself.
Even people who consider themselves fairly eco-aware can lose the run of themselves at festivals.
They convince themselves that the cheap 'disposable' tent they bought and left behind them can go to help the homeless or the scouts.
They tell themselves that it's okay to leave rubbish behind because when they're not so tired and partied out, they usually recycle, they usually compost. It'll be okay just this once.
But it's not. Perhaps some are donated, but the vast majority are not. They go directly to landfill.
It's one of the reasons we don't sell ultra-cheap disposable tents. There are other reasons too – a tent for €30 has had human and probably other environmental costs along the way too. We once turned down the opportunity to sell 150 tents to a festival (which shall remain nameless) because they had no clear plan of where the tents were going to end up. We each have to play our part. Don't sell your soul for the sake of a few shekels.
If you have a tent of value, you will look after it better and you will bring it home to use on your next camping adventure. If you are on a budget, you can always rent one. That will ensure you look after it and bring it back with you too. The same applies to your sleeping bags, mattresses and even camp chairs!
If you brought it in, you can bring it home!
I still admire the minibus driver who brought our gang on the Trip to Tipp, Féile '92 and loaned a heap of 18/19 year olds a tent! What was he thinking?? He did get it back. In one piece too as far as I remember…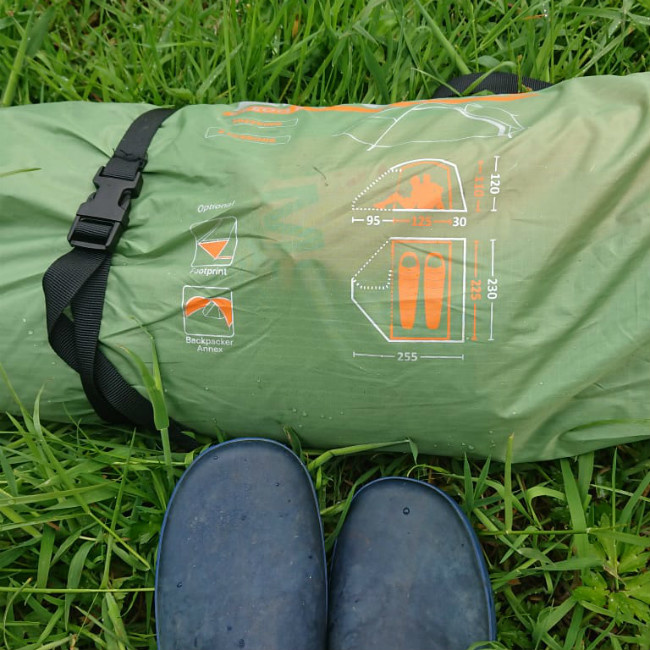 Wash
Wipes are so cheap and handy aren't they? You can have a body wash in the privacy of your own tent! But – most aren't so good for the environment.
DurtWipes to the rescue! – a whopping 30cm2 will get you a full body wash with ease. Not alone that, but they're Irish and their eco-credentials leave their competitors looking… well… dirty!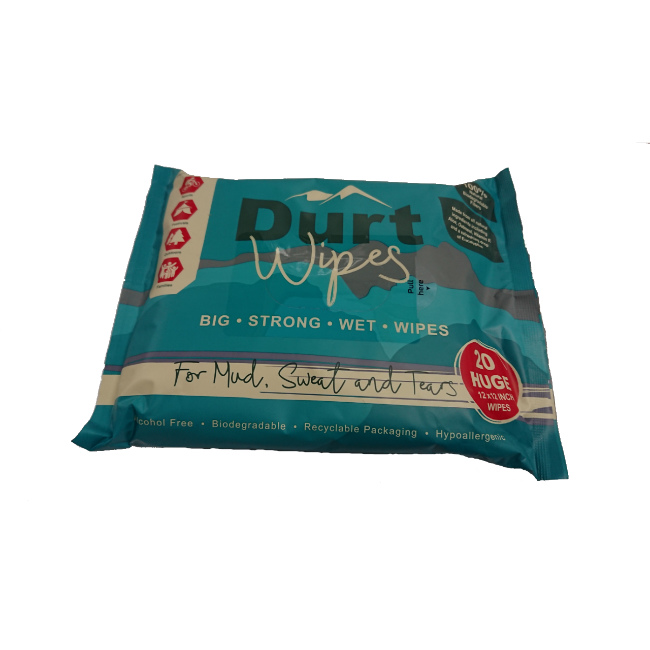 Hand hygiene is very important too – especially in an environment where you probably won't be using cutlery and particularly after using the dreaded portaloos!!
Instead of all your gang buying mini hand sanitisers, I bet if you make an effort, between you, you've all got enough old travel size bottles from previous breaks away that you could re-use! Buy a large hand sanitiser and refill these little bottles. If there's any left in the bottle, leave it in your tent just in case!
Don't forget your toothbrush! As for toothpaste – instead of buying a travel size one, you can buy toothpaste bites – these are little pill like thingies that you pop in your gob, add a wet toothbrush and go! Or you could make your own with the toothpaste you already have at home as few days in advance and use those instead!
Are there any girls out there who don't already know to braid or dry shampoo?? Nah, didn't think so!
Bad Weather Plan
What if the forecast is likely to be wet and wild? What extras will you need in order to survive and possibly even enjoy the festival? It's really all in the planning. Bring a spare (reusable) bag for your wet & dirties to keep them apart from your clean, dry items.
You'll obviously need wellies. And a light rain jacket would be useful too. Choose to pack outdoorsie clothing that dries quickly and avoid heavier cotton items which will soak up the water like a sponge, leech the heat out of you and make you feel downright miserable.
Anything Else?
Something else you can do with ease is find out the ethos of the festival. It's always worth asking the organisers of any festival what their environmental policy is. The more we ask organisers for these things, the more we will effect positive change.
Oh yeah... Have fun & enjoy the music!